Post by Thor Ericsson on Sept 22, 2012 10:59:33 GMT 1
This is a list of the substances available in New Vegas.
First let me clarify...Any humans caught doing drugs, other than those deemed legal, will be prosecuted by the VSF resulting in immediate arrest and a life sentence as a blood slave. Drinking IS allowed but alcoholism will NOT be tolerated.
Vampires do not care what the rest of the species in New Vegas does, live, die, smoke, drink, whatever as long as you don't sell drugs to humans.
Now for the list.

LEGAL
Coffee- yeah, you know what that is.
Vampire Blood- Known only to those whom the vampire trusts, this is used to bond with certain humans and some mutants (if it works), It is not common knowledge, but it causes heightened strength, stamina and focus. It is more concentrated than the 'V' that is sold in the gel-caps by the medical center. It can also be used to heal.
'V' - legal as long as obtained legally. Monthly supplies can be obtained when making a donation if you have the scripts. 'V' is NOT addictive. It is sold in gel caps. 'V' makes you stronger, faster and more focused. If more than a normal dose is taken, it works as an aphrodisiac. Careful, too much could land you in the emergency room with extreme swelling of the genital area.The vampires would have the general population thinking V is for Vitamin and it is a nutritional supplement. Only Vampires know where it comes from with few exceptions.
'G Juice' - Gluprentolos was designed by the lab to increase energy levels for those who suffer from fainting after donation (ATTN: Homo Superior Superior) What they didn't anticipate was the 'speed' effect it would have in humans. There are no ill effects, it is not addictive and it works for up to 5 hours. You can get any beverage with 'G Juice' in it at your local coffee lounge.
ILLEGAL
With the world gone to hell, the old drugs no longer exist. New street drugs have been developed.
'Hard H' is similar to the old Heroine. It is very addictive. Vampires can smell this on you a mile away for its strong vinegary scent. It is smoked and it will rot your teeth but the high will take you to another world for up to 48 hours. The state of euphoria is what draws many to this drug.
'Vibe' Vibe- Vibe comes from a mutated plant of the desert. Popular at Raves. This drug is ingested in a brownie or sugary wafer cookie. It causes one to fall in love with everything that touches them. The softest touch can bring someone to their knees, writhing in pleasure. Merely blowing on the neck of someone on this drug could possibly cause a mind blowing orgasm. It is not uncommon to see someone on this drug dry humping an item of furniture or a lamp post. Extremely addictive.
'38 Special' This drug is inhaled. At first all it does is make your nose feel prickly, then, like the gun it is named after, it hits you in the head. Focus and mental strength are the effects of this drug. It is popular with students who are studying for exams. Its like having 5 G Juice's at once, but for twice as long. But, the comedown is the best sleep aid in the world. You will be on the top of your game for about 8 hours then simply fall asleep for the next 8, waking refreshed and rested. It is VERY addictive and takes more and more each time you take it. High doses cause bleeding in your brain.
'Jet'- This drug works like a combination of Hard H and 38 Special. You will fly high for up to 48 hours then crash hard for another 24. This is good for people working double shifts at the end of their work week. There is mental clarity and focus combined with physical energy and strength. The problem is, it can cause sudden heart attacks and strokes with no warning. Extremely addictive.
'Rakuen'- This drugs origin is unknown but it is very addictive. It is a recreational dissociative drug with anasthetic and hallucinogenic properties. Effects are unpredictable. It may cause sensory distortions, delusions and powerful mood altering effects from euphoria to invulnerability. Side effects of paranoia, rage and suicidal impulses are common. Users become capable of extreme feats without regard to self injury (ie. they may jump 2 stories and break a leg or get hit by a car but keep on running, not feeling it until the drug wears off.). OD can result in long term psychotic episodes, convulsions and death. It is EXTREMELY addictive.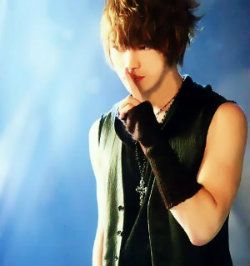 "IV' - Illegal 'V' is illegally obtained by the murder of a vampire. They are incapacitated and drained then left in the sun so no trace is left of them. The blood is then concentrated and refined into a powder. ONLY Vampires know where 'V' actually comes from, other than a few unsavory characters who aren't telling the general populace for obvious monetarily lucrative reasons. Most people think that 'IV' is 'V' laced with 'Vibe', as the effects are similar but it is actually concentrated 'V'.